Delegation from Anhui University visits CLEC Foundation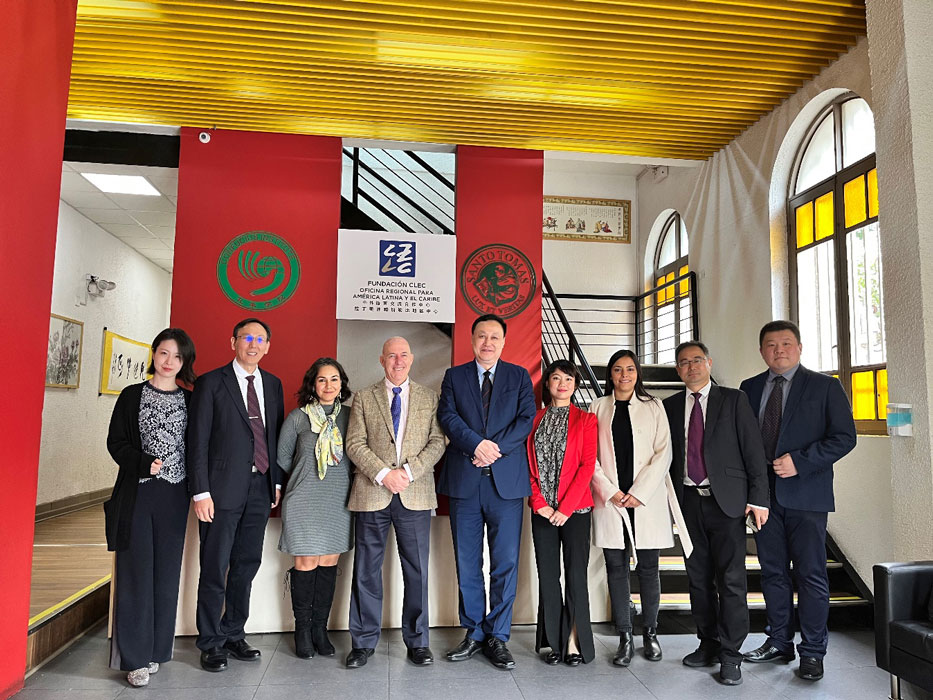 The delegation made up of: Cai Jingmin – Chairman of University Council ANDA; Li Xuejun – Director of Teaching Affairs Divisions, ANDA; Hu Xuewen – Director Office of International Cooperation and Exchange, ANDA; Wang Muqing – Deputy Director of International Cooperation and Exchange, ANDA; Bai Wei – Vice Dean of Institutes of Physical Science and Information Technology & School of Materials Science and Engineering, ANDA; visited the offices of the CLEC Foundation – Regional Office for Latin America and the Caribbean on Friday, April 28. They were received by our director, Roberto Lafontaine.
This is the first delegation from the University to travel from the province of Anhui in post-pandemic times and they have prioritized a visit to Chile with the aim of deepening and reaffirming the existing collaboration between both countries. During the meeting that included a visit to the CLEC Foundation building and a meeting between staff from both institutions, the delegation highlighted the importance and work of the Foundation in organizing activities in the region.
During the meeting, the importance of the "Chinese+" program as an important tool to achieve employment goals was also emphasized, mentioning the possibility of cooperating in CLEC activities due to the comprehensive nature of Anhui University.
Hu Xuewen, during the meeting, highlighted the longstanding cooperation that exists between both institutions and discussed the new challenges related to teaching the Chinese language that have arisen post-pandemic, raising the need to promote and strengthen collaboration with the "Chinese+" program.